Shopping Cart
Your Cart is Empty
There was an error with PayPal
Click here to try again
Thank you for your business!
You should be receiving an order confirmation from Paypal shortly.
Exit Shopping Cart
Investing in a family fruit tree is not only a wise economical choice, but could also become a family hobby. I know here at Myers nothing keeps my family more bonded than a family business! So if you are looking for a fruit tree, we've got em'!
Myers Landscape and Nursery just got a new load of fruit trees! There are dozens of fruits to choose from, from apple to plum, and are likely to sell fast!
Apples-
Semi-Dwarf Delicious Yellow Apple
Semi-Dwarf Ginger Gold Apples
Semi-Dwarf Granny Smith Apple
Semi-Dwarf Honeycrisp Apple
 Cherry-
Montmorency Sour Cherry
North Star Sour Cherry
Semi-Dwarf Sweet Bing Cherry
Semi-Dwarf North Star Sour Cherry
 DWARF Sweet Van Cherry
Currant-
Red Lake Currant 
Fig-
Chicago Hardy Fig
Grape-
Black Concord Grape
Black Concord Seedless Grape
Black Mars Seedless Grape
White Niagara Grape
Peach-
Semi Dwarf Haven Hale Peach
Dwarf Red Haven Peach
Pear-
DWARF Green Anjou Pear
Semi Dwarf Yellow Bosc Pear
Semi-Dwarf Red Bartlet Pear
Plum-
Semi Dwarf Red Bruce Plum
If its a fruit tree you need, be sure to stop by Myers Landscape and Nursery to check out our wonderful selection. We are always happy to help in your planting and selecting process, and are more than willing to "go that extra mile" for ALL our customers! Call me, Mark,  at (574)-518-8000 for any questions you my have about our fruit trees or your own landscape, and come see us today! 
From the number of recent phone calls, I can tell you are sensing the arrival of spring and its tug to attend to your lawn and landscape.
The simplest and most useful thing you can do right now is take a walk! The best fertilizer for your garden is your own foot prints. And you probably will leave a few foot prints as you take a walk during this spring thaw! Of course the magic is in your awareness and attention to your landscape.
I take a notepad and pen for these walk-throughs, because I always find more to do than I can remember later. I even take a digital camera, nowadays – they are so handy!   Email me some pics if you have questions. [email protected]
If you feel you do not know what to look for, let me offer these tips or my services to do this with you or for you. Spring will get busy for the both of us soon enough, so if you think you need our help, please call or email soon.
 (574) 457-5354
or visit the contact us page on our website.
Things to look for:
1) Now is the time to do some spring cleaning. Deadheading is removal of spent or dead foliage especially from herbaceous perennials. You probably have some of these plants and if you did not clean up the old foliage last fall, now is the time. Fungal spores and insect eggs overwinter in this debris and if you remove it now, you will eliminate a lot of trouble this season.
2) You may have done an excellent job of fall leaf cleanup, but guarantee the leaves are back. They are not hurting your flower beds yet, but do remove them from lawns as soon a possible. Accumulations of wet leaves along edges, fences, corners and depressions will smother lawn turf if you do not clean it up pretty quickly.
3) Speaking of the lawn, Indiana Gardening magazine proclaimed 2010 the Year of the Crabgrass! It is all dead now, as evidenced by brown and bare patches in your lawn! Rake in some good quality grass seed and a starter fertilizer. Grass seed can be a complex choice dependent on many factors, contact us for best recommendations for your situation. If things are too bad, we can overseed and topdress you entire lawn.
4) It is a great time to prune! Prune away any obviously dead or winter damaged branches. Now is the time to rejuvenate that hedge or overgrown shrub!
5) Watch for bag worms! These are a new pest to our area. I am not talking about the tent caterpillars that will show up a little later this spring. Bag worms are insects that spin a cocoon like structure that includes enough plant leaves that it resembles a brown pine cone about 2" long right now. Many of these harbor hundreds of eggs this time of year. As you can imagine, hand picking these will eliminate thousands of bugs from your plants this season. You can learn more about bagworms here: http://www.ehow.com/how_9370_control-bagworms.html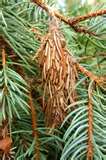 If you are not sure what to look for, give me a call (574) 457-5354 or schedule an economical site evaluation. Prevention is much more effective and economical than control or replacement, and the earlier you get started the better for you and your landscape!
- Mark Myers
/